KRYSTINA STADLER, DVM, DACVR – SUMMIT VETERINARY REFERRAL CENTER
Education (colleges & Degrees; additional certifications):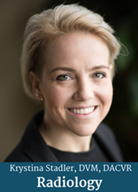 Diplomate of the American College of Veterinary Radiology (4year postdoctoral training + certification).
Doctor of Veterinary Medicine
Bachelor of Science (Major: Biology)
Associates of Art
STEM positions she's held, holds
Veterinarian, Radiologist
How did you end up in your career?
I have always loved animals but honestly started college out thinking I would study Music, with a focus on Music education. However, after taking some general college level chemistry/biology classes, I realized I really liked these classes and was also really talented in these courses, so started to take more. After finishing Community College, I transferred to a 4year since program and around my 3rd year of college thought about pursuing a medical career. I somehow stumbled across someone in pre-veterinary and somewhere along that time, decided to focus on applying to veterinary school. It is very difficult to get accepted to veterinary school and I was not accepted on my first time applying but I worked harder, strengthening my application and was accepted.
Notable accomplishments 
Radiology consulting corporation owner and head of radiology and a large referral hospital.
Multiple scientific publications in multiple well respected peer-reviewed journals.
Mentor for multiple veterinarians and veterinary radiologists.
Graduated 2nd (out of 144) in my veterinary class and was the class Salutatorian.
Multiple academic scholarships for veterinary education.
High Honors- Bachelor's and Veterinary degrees.
Multiple time Ironman athlete and team USA participant.
My pets would say I am a pretty dog animal owner as well 🙂
What advice would you give to a girl going in to 8th grade who loves STEM?
That's amazing, STEM is something that always builds and always challenges you. Keep with it! Be excited for the challenge, grow with with your successes and failures. There are so many branches of STEM to pursue as well, just because you enjoy one branch does not mean you have to enjoy them all. Also just because you love STEM does not exclude you from loving other things. I still love Music even though I am much more a scientist than a musician at this point in my life. You and everything you love makes you amazing, generate confidence in that. Be confident, be bold.
What would you do differently?
I think everything I did, did not do, makes me who I am and so I do not think I would do anything differently. I had to grow and experience and that is what I did.
One thing I would add however if I was going to re-write my early late high school/college time, is travel more. I traveled a fair bit mainly to Europe as a teenager/early 20s and I lived in Ireland, however I really wish I took some time off to just travel and experience or maybe work a year in a lab abroad. This is not entirely STEM based but could be if you desired it too, such as a study abroad or lab assistant program . There is so much to learn from exposing yourself to different cultures and places and that can only help open yourself up to new ways of thinking and will ultimately help you in your STEM career and overall adaptability and just adulting. I realize this may not be possible for a lot of people for numerous reasons and that is ok. Technology helps us explore places we have never been, if travel is not possible, virtual travel or books can be a great substitute.
Is there anything you wish you had studied that you did not?
I find code and tech development fascinating. I think if I had infinite time and wanted to take on another hobby or career I would spend more time on code and tech development. Not sure I wish I had studied that, but it is pretty interesting.