2019 Camp Schedule
Pacific Lutheran University, Tacoma, July 14-20, 2019
Eastern Washington University, Cheney, July 28-Aug 3, 2019
Camper's comment: I learned that there is a job in STEM that can fit your personality and interests, which makes me feel less "trapped" when I think about the jobs that are usually chosen and the jobs that I know about and can choose now. I had an amazing time! I would recommend this camp to anyone!
2019 will see two weeks of camps == one at Pacific Lutheran University and one at Eastern Washington University — serving approximately 150 girls from throughout Washington!  Thanks to efforts of AAUW-WA Online branch, 11 students from areas of the state where there currently is no AAUW branch attended camp in 2018.  In order to accomplish this, it will be necessary to raise at least $175,000 — from individuals, corporations, foundations, local businesses and civic organizations.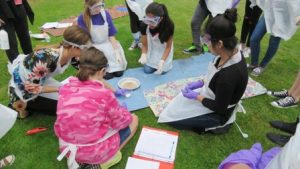 We will be seeking camp staff volunteers for 2019 camps — dorm monitors (age 21 and over), health aide, student counselors (age 16 and over), teachers and workshop presenters.  We especially encourage branch STEM Scholars and former Tech Trek campers (turning 16 by January 1, 2019) to apply to be student counselors. Please click on the Volunteer tab and complete the application form.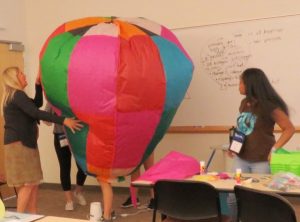 Branches are working to identify, interview and select campers from their local areas, as well as raise funds to support their campers' attendance. We look forward to have at least 150 current 7th grade girls attend a Tech Trek WA camp this coming summer!
Parent's comment: My daughter came home a changed girl.  She was so shy she wouldn't even get up in front of her classmates to make a presentation.  Here she is today, speaking before a complete group of strangers — teaching them something she learned at Tech Trek about genetics.  Tech Trek has definitely impacted our entire family as her confidence is rubbing off on her younger sister too.
At Tech Trek, girls are immersed in a world that empowers and encourages them to think about themselves as future scientists, engineers, mathematicians, and computer specialists.
This one-week STEM camp for rising eighth-grade girls got its start over 20 years ago, when AAUW of California member Marie Wolbach applied for an AAUW Community Action Grant to open a math/science camp for girls on the Stanford University campus. Wolbach and AAUW of California have since expanded the program to 10 camps in California alone.
After seeing how effective the program is — alumnae are more likely than their peers to take advanced science and math classes and eventually to go to college — AAUW took the program nationwide in 2013. Tech Trek was now expanded to 10 states, changing the lives of the girls who attend.
Campers in Washington took part in activities like building and launching model hot air balloons, building and programming model robots, cybersecurity, coding computer applications, marine/environmental biology (including dissecting squid), structural engineering, chemistry and art in nature.  They also learned how to do some computer coding, extract DNA, simulate meiosis with genetic trait models, cryptography, use GIS mapping techniques, roller coaster physics, optics, medical skills (taking blood pressure, injecting an orange), chemistry of cosmetics, CSI investigation and much more! Tech Trek has been shown to significantly increase girls' self-confidence and their interest in and excitement about the STEM fields, which is why AAUW is expanding Tech Trek to more and more states each year.
The program puts AAUW's groundbreaking Solving the Equation research report into action. Tech Trek's formula follows the report's recommendations, asking why there are still so few women in the critical fields of engineering and computing — and explains what we can do to make these fields open to and desirable for all employees. Find out how you can support a camp today!