** AAUW-WA Tech Trek
Special Projects Fund – ** preferred

National AAUW Tech Trek
Program Fund

Fundraising for the 2020 camps is underway.  We have set an ambitious fundraising goal of $175,000 to fund at least 150 campers. And thank you! to our last year's donors (see listing at end of this page).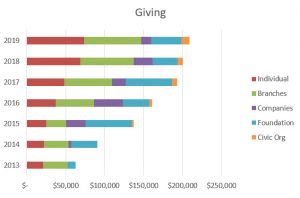 Fully tax deductible donations can be made to Tech Trek WA through our fiscal sponsor, AAUW-WA Special Projects Fund, a 501(c)(3) charitable organization. By the way, did you know that our AAUW-WA Special Projects Fund  is available as a designated charity when you shop at smileamazon.com/ch/27-3330630. #AmazonSmile #StartWithaSmile ?
Online donations: We make it EASY!  Use the AAUW WA SPF Donate button.
If you choose to use the national Tech Trek DONATE button, then use the dropdown box to select either of our university camp sites (PLU or EWU).
Donations from AAUW members will automatically be credited to their primary branch.
OR mail us a check, made payable to AAUW-WA SPF – note a specific branch in the memo area
AAUW-WA SPF, PO Box 1665, Bellevue  WA  98009-1665
All donations will be acknowledged by Tech Trek WA and/or AAUW-WA SPF.  Donors can designate a specific AAUW-WA branch by noting the branch name in the memo area of the check or by sending an email to tt-development@aauw-wa.org with the branch designation.
Every Contribution Makes a Difference!
$10 — Workshop/Mini lab supplies for one camper
$25 — Pay for binder, backpack, water bottle, T-shirt & Flash Drive for one camper
$50 — Classroom materials for one camper
$100 — Field trip costs for one camper
$175 — Week's meals for one camper
$200 — Residence Hall costs for one camper for week
$600 — Cover half of a camp sponsorship
$1,200 — Award a full sponsorship for one girl
$1,500 — Provides stipend for one classroom teacher for week
$10,000 — Provides board and room for 50 campers for week
$30,000 — Provides board and room for week-long experience for 150 campers!
It's never too late to donate to Tech Trek WA!  Working together, we can continue to expand Tech Trek opportunities for girls throughout Washington in years to come!
We wish to thank our 2019 major donors:
$10,000 – $20,000
Andeavor Foundation
Bamford Foundation
Gerry Herber (Lake Washington)
$5,000 – $9,999
Louise Polle (Issaquah)
Symantec Corporation
$1,000 – $4,999
Anne Slauson (Spokane)
Bellingham Central Lion Club Fnd (Bellingham)
Bellingham School Fnd (Bellingham)
Cascade Columbia (Tacoma)
Dimmer Foundation (Tacoma)
Florence Young (Spokane)
Hewes Marine (Colville)
Hexcel Corp (Anacortes)
Jeanette Lomax (Olympia)
John Ochs/Steve Cox Memorial Fnd (Colville)
Judie Ward (Colville)
Judith Cichowicz (Tacoma)
Judith Edwards (Bellingham)
Judith Ward (Colville)
June Arnold (Seattle)
Kettle Falls Lady Lions (Colville)
Kettle Falls Rotary (Colville)
Judith Edwards (Bellingham)
Judith Ward (Colville)
June Arnold (Seattle)
Kettle Falls Lady Lions (Colville)
Marcia McEvoy (Palouse-Garfield)
Mary Selecky (Colville)
Marziah Kiehn Sanford (Online)
McGrane & Schuerman PLLC (Colville)
Melody Robidoux (Kirkland-Redmond)
Piccaro Family Charitable Trust (Tacoma)
Pioneer Community Kiwanis (Olympia)
Rosette Dawson (Anacortes)
Rotary Club of Colville (Colville)
Schweitzer Engineering Lab (Palouse-Garfield)
Shell Oil (Anacortes)
Susan S Sachs (Palouse-Garfield)
Taylor Shellfish (Olympia)
Tucker Family Foundation (Olympia)
U.S. Chemicals (Tacoma)
Underwood & Associates (Anacortes)
$500 – $999
American Slavic Women's Club
Anne Moehle Ferrara (Gig Harbor)
Betsy McTear (Coeur d'Alene)
Chelsea Paige Foundation (Gig Harbor)
Colville Elks (Colville)
Colville Kiwanis (Colville)
Constance Dunkelberger (Tacoma/Tri Cities)
Dorothy McBride (Tacoma/Online)
EDCO (Anacortes)
Esther Golde (Bellingham)
Gig Harbor Garden Tour Assn (Gig Harbor)
Jane Owens (Olympia)
Janet Gram (Issaquah)
Jeanette Lomax (Olympia)
Judith Prince (Online)
Judy Rogers (Online)
Kerry Lohr (Highline)
Kirkpatrick, Utgaard & Perry (Palouse-Garfield)
Leslie Waters (Colville)
Leslie Waters (Colville)
Lisa Van Loben Sels (Issaquah)
Marvin & Anna Jean Johnson (Palouse-Garfield)
Mary Hammond (Tacoma)
Padmaja Shivanand (Seattle)
Pamela Sankey (Bellingham)
Providence Health & Svcs (Colville)
Sally Bishop (Bishop's Orchards)
Sandra Overton (Gig Harbor)
Shannon Wiggs (Gig Harbor)
Wanda Holmes (Vancouver)
Wells Fargo (Vancouver)
Wilson Survey/Engineering (Bellingham)
$250 – $499
Angela Lawton (Issaquah)
Ann C Crabtree (Issaquah)
Carolyn Hayek (Online)
Christina Gospodnetich (Coeur d'Alene)
Christine Cote (Issaquah)
Claudia Thompson (Gig Harbor)
Colmac Coil (Colville)
Florence Vining (Puyallup Valley)
Heidi Relyea (Issaquah)
Honda of Sumner (Puyallup Valley)
Jennifer Butler (Gig Harbor)
Joan R Hudiburg (Issaquah)
Jordan Priess DDS (Gig Harbor)
Karen Anderson (Gig Harbor)
Kathryn Hunt (Coeur d'Alene)
Kathy Rogers (Issaquah)
Kelly Smith (Issaquah)
Kiwanis Club of Chewelah (Colville)
Kiwanis Club of Pasco (Tri Cities)
Kiwanis Club of Pasco (Tri-Cities)
Mary Alice Peterson (Olympia)
MJD Distributors (Puyallup Valley)
Pacific Pediatrics (Puyallup Valley)
Patty McClelland (Gig Harbor)
Robert Panowicz (Olympia)
Robin Hanna (Willapacific)
Robin Hanna (Willapacific)
Rosemarie Holcombe (Hudson's Bay)
Rotary Club of Gig Harbor North (Gig Harbor)
Sally Bishops (Palouse-Garfield)
Sue Richart (Colville)
Susan Canto (Colville)
Teena Welch (Issaquah)
The McGregor Company (Palouse-Garfield)
Volkswagen of Sumner (Puyallup Valley)