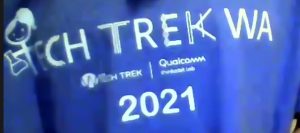 We held a fabulous virtual camp July 2021. View videos from camp on the photos / videos page.
ABOUT 2021 VIRTUAL CAMP
Campers who were selected to attend camp in 2020 (cancelled because of the pandemic) joined campers selected in 2021. Each student received a Tech Trek ToolKit containing all the materials needed to successfully navigate the virtual world for a core class and the afternoon STEM activities.
Classes were small with 10-12 per class. Virtual breakout rooms for 3-5 campers and a teaching assistant were provided when working on hands-on projects. We had core classes each morning for three hours:
Bodies by Design
Chemistry is pHun!
Cyber Security

Thinkabit Wearable Tech

Understanding Climate Change
Afternoon experiences are also hands-on learning and varied to include virtual field trips of all sorts, financial management for teens, friendship bracelet making, and an array of workshops/labs that allow campers to make things and explore STEM principles.
And finally, campers and staff experienced making their own videos and presentations. The final Friday was filled with producing videos and presenting them to peers and families in a closing event for the camp. View videos from camp on the photos / videos page.